Adept
From Project Einherjar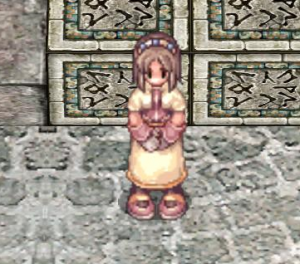 Overview
[
edit
]
Adept is a hybrid between support and magical caster.
It has access to a lesser version of the acolyte heal and blessing while having its own set of buffs.
It can debuff the maxHp and maxSp of an enemy.
Adept specializes in single-target magic damage, having all the elements at its disposal.

Job changing
[
edit
]
Head to Yuno and enter the Adept guild (218, 177)
Follow the Adept Agent instructions to become an Adept.
Note: 1 red blood, 1 crystal blue, 1 green live and 1 wind verdure are needed.

At job level 40 Adept can change into Viking or Mystic.
Class data
[
edit
]
| Icon | Name | Type | Max Level | Requirement | Description |
| --- | --- | --- | --- | --- | --- |
| | Sap | Active | 10 | Adept or Mystic | Decreases enemy's Max HP. Skill level affect the duration and power of Sap. |
| | Drain | Active | 10 | Adept or Mystic | Decreases enemy's Max SP. Skill level affect the duration and power of Drain. |
| | Heal | Active | 5 | None | Restore a target's HP or damage Undead target. The amount of HP restored is based on the caster's base level, INT, and the skill's level. |
| | Freyjas Festival | Active | 5 | None | Increase AGI, VIT, and LUK of the target. |
| | Resta | Supportive | 5 | None | Increase allies' HP regeneration by 30% per level. |
| | Magas | Supportive | 5 | None | Increase allies' SP regeneration by 30% per level. |
| | Prism Shot | Offensive | 7 | None | Single-Target Neutral Property Spell. Deals 190% M-ATK plus 45% per Skill Level. |
| | Flametongue | Offensive | 7 | None | Single-Target Fire Property Spell. Deals 145% M-ATK plus 45% per Skill Level. |
| | Glass Hammer | Offensive | 7 | None | Single-Target Water Property Spell. Deals 145% M-ATK plus 45% per Skill Level. |
| | Circuit Spark | Offensive | 7 | None | Single-Target Wind Property Spell. Deals 145% M-ATK plus 45% per Skill Level. |
| | Earth Shatter | Offensive | 7 | None | Single-Target Earth Property Spell. Deals 145% M-ATK plus 45% per Skill Level. |
| | Holy Voice | Offensive | 7 | None | Single-Target Holy Property Spell. Deals 145% M-ATK plus 45% per Skill Level. |
| | Void Claw | Offensive | 7 | None | Single-Target Shadow Property Spell. Deals 145% M-ATK plus 45% per Skill Level. |
Platinium Skills
[
edit
]