Adept
From Project Einherjar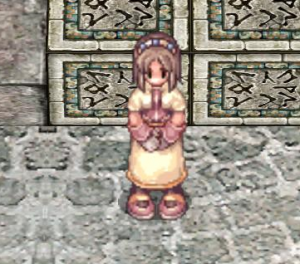 Overview
[
edit
]
Adept is an hybrid between support and magical caster.
It has access to a lesser version of the acolyte heal and blessing while having his owns set of buff.
It can debuff the maxHp and maxSp of an enemy.
Adept specializes in single-target magic damage, having all the elements at his disposal.

Job changing
[
edit
]
Head to Yuno and enter the Adept guild (218, 177)
Follow the Adept Agent instructions to become an Adept
At job level 40 Adept can change into Viking or Mystic.
Class data
[
edit
]
| Icon | Name | Type | Max Level | Requirement | Description |
| --- | --- | --- | --- | --- | --- |
| | Sap | Active | 10 | Adept or Mystic | Decreases enemy's Max HP. Skill level affect the duration and power of Sap. |
| | Drain | Active | 10 | Adept or Mystic | Decreases enemy's Max SP. Skill level affect the duration and power of Drain. |
| | Heal | Active | 5 | None | Restore a target's HP or damage Undead target. The amount of HP restored is based on the caster's base level, INT, and the skill's level. |
| | Freyjas Festival | Active | 5 | None | Increase AGI, VIT, and LUK of the target. |
| | Resta | Supportive | 5 | None | Increase allies' HP regeneration by 30% per level. |
| | Magas | Supportive | 5 | None | Increase allies' SP regeneration by 30% per level. |
| | Prism Shot | Offensive | 7 | None | Single-Target Neutral Property Spell. Deals 150% M-ATK plus 45% per Skill Level. |
| | Flametongue | Offensive | 7 | None | Single-Target Fire Property Spell. Deals 150% M-ATK plus 45% per Skill Level. |
| | Glass Hammer | Offensive | 7 | None | Single-Target Water Property Spell. Deals 150% M-ATK plus 45% per Skill Level. |
| | Circuit Spark | Offensive | 7 | None | Single-Target Wind Property Spell. Deals 150% M-ATK plus 45% per Skill Level. |
| | Earth Shatter | Offensive | 7 | None | Single-Target Earth Property Spell. Deals 150% M-ATK plus 45% per Skill Level. |
| | Holy Voice | Offensive | 7 | None | Single-Target Holy Property Spell. Deals 150% M-ATK plus 45% per Skill Level. |
| | Void Claw | Offensive | 7 | None | Single-Target Shadow Property Spell. Deals 150% M-ATK plus 45% per Skill Level. |
Platinium Skills
[
edit
]